More social features to engage your community, more tools to create one-of-a-kind collector experiences with no code, and more integrations to unlock the full power of web3 on your own branded site - welcome to Bonfire Season 4.
Over the past few months we've introduced native support for audio, video, & livestreams (all token gate-able of course), integrated with partners such as Sound & Mintplex to enable native minting experiences on your own site, and added new features and capabilities to our platform builder, Bonfire Studio - and it's just the beginning.
Growth, relationships, collaboration, and a sense of belonging, are a few of the things we believe power healthy communities, and web3 together with the creator economy movement further provide the tools and infrastructure necessary to take them to the next level. Some might call it the evolution of creator communities, or fan clubs 2.0. So what does this mean for us, and how are we building towards powering these new-age communities? Let's dig in!
Season 3 Highlights
Bonfire Studio: Bonfire Studio has evolved over the past quarter into a full-blown platform builder for web3 creators and brands, and you've been blowing us away with the experiences you've created for your communities. Here are just some of the studio highlights from Season 3:

New Blocks: We introduced creators to powerful new drag-n-drop blocks including video, livestream, download, and gallery blocks.

Page Templates: We've built out a library of page templates, making it quick & easy to spin up custom mint pages, token-gated audio or video libraries, collector showcases, & more.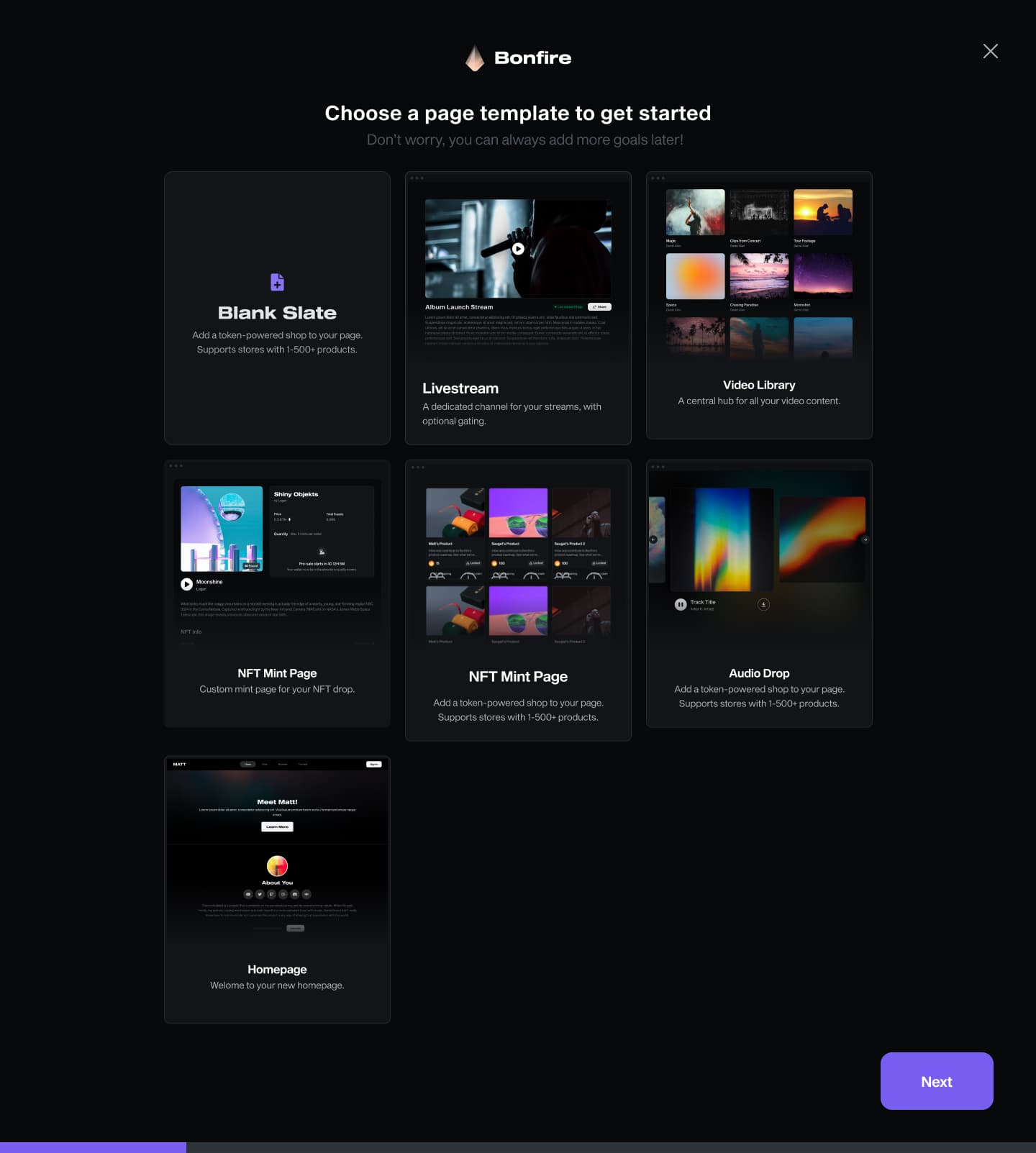 Native Content: We now natively support Audio, Video, and Livestream content, all supporting easy token-gating via the Studio.

Open Beta: In September we shipped self-serve onboarding, transitioning to 'Open Beta'. We're currently working through our waitlist sending out invites in batches, and will be quickly turning our attention toward public launch once that's complete and we have confidence in the scalability & performance of the platform.

Bespoke Drops: In the past months we've also partnered with innovative artists to help bring their projects to life through bespoke drops on their own artist site:

Glass House: First, Daniel Allan debuted minting on Bonfire with his Glass House drop, which sold out 1,000 music NFTs and raised ~70 ETH, while garnering attention throughout the web3 and more mainstream music scenes. The project and release have been featured in countless publications & features, including a full feature in full feature in Billboard.
Frameworks: Soon after, we teamed up with the Sound team and artist Reo Cragun to support the release of Frameworks, his latest 5-track EP, which doubled as the debut of the Sound Protocol. The drop sold out in <5 mins raising ~11 ETH, and has since gone on to do another 13 ETH in secondaries, and trended for nearly a week on the OpenSea homepage.
While Q3 was our biggest quarter yet, we're even more excited about what's coming in Season 4….
Setting Camp
While the past few months have been about building a strong foundation for the platform, through investments in things like supporting native content and self-serve onboarding, these next few months are about transitioning Bonfire from single-player to multiplayer mode.
Here are just some of the projects we're excited to invest in over the coming months:
More Customization: We'll be building more ways to bring your entire brand to Bonfire, through things like custom themes & fonts. Freedom to build your platform your way.

Teams & Projects: Invite others to co-manage your Bonfire, and create and manage multiple projects, either independently or as collabs with other creators.

Posts: A lighter-weight and more social format for sharing content, and posts (with native token gating, of course) will make it easier than ever to engage with your collector community around content.

Native NFT Drops: Create and drop your own NFT collections right from the Bonfire dashboard, powered by our partner protocols.

ERC-20 Airdrops: Need we say more? Airdrop tokens to your community to incentivize and reward community engagement.

Creator Analytics: Understand the health and what's working in your community. Get to know your collectors and fans better with new and improved analytics right from your dashboard.
For reference, you can view our full public roadmap (and propose additions to it) here.
Onwards
As we gear up for public launch, we continue to find excitement and purpose in building in public with creators and their communities in mind. Unlocking new formats for community engagement between creators and their communities is what inspires us, and serves as kindling for the bonfire we want to ignite.
Gather around, it's cozy by the fire!
If you want to stay up to date with everything Bonfire, you can follow us on Twitter and/or join our newsletter.
Until next time!
With love,
The Bonfire Team